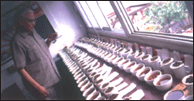 Packing has been another important area where our experts work overtime to bring in the best in terms of hygienic environment, packing material, design and convenience of the consumer. Dholagiri Group's rich experience of Tea Packaging has been an added advantage for the Company.

The Company has decided to expand into various consumer products with the determination of capturing prime position in every Indian household through innovative modes. The pioneering spirit to deliver better quality of lifestyle at affordable cost to millions of households.

At Dholagiri, the quality of service is provided by Dholagiri Group sales force supported by its strong supply chain. Overall we ensure the finest quality at the most competitive price and best of services satisfying customers worldwide.